Rough Terrain Cranes
A rough terrain crane is subclass of a hydraulic crane. As a self-propelled crane mounted on an undercarriage with four rubber tires, rough terrain cranes are specifically designed to operate on off-road and rough applications and surfaces. Designed specifically for pick-and-carry and slewing operations, the rough terrain crane is used for large-scale construction projects.

55 Tonne Grove RT760E Rough Terrain Crane
Rough Terrain crane with three steering modes, compact and rugged design, boom telescoping even under load, comfortable and ergonomic cab with intuitive and easy controls. These characteristics make rough terrain cranes versatile, easy to use and ready to work for long hours, minimizing the fatigue of the operator.
| | |
| --- | --- |
| Maximum Lift | 55t |
| Main Boom | 33.5m |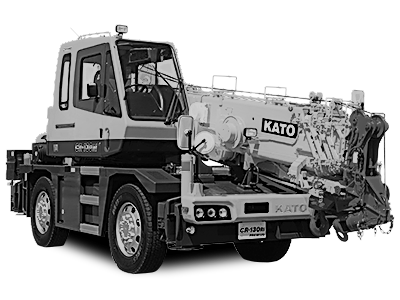 13 Tonne Kato CR130Ri City & Rough Terrain Crane
A rough terrain / city crane with 2wd/4wd capability, and independent front & rear steering, this is a versatile crane with it's variable outrigger settings & a small footprint.
With a turn radius of just 3.92m (in 4 wheel steer) this crane is capable of getting into hard to reach places!
This crane offers versatility and ease of use with a variable offset jib.
| | |
| --- | --- |
| Maximum Lift | 13t |
| Main Boom | 24m |