Melrose has been involved in dozens of projects over the years. The projects range in size from apartment buildings and office blocks through to overpasses, bridges, factories and windfarms. There are too many projects to list so we've chosen a select few projects to highlight that demonstrate our depth and breadth of experience.
Barangaroo Headland Park –
MCR utilised our heavy lift crane fleet for the installation of precast L -Wall sections to create a new sea wall and 50t super t's from multiple engineer approved suspended slab set up positions.
The crane lifting, logistics and planning took two years to assist Baulderstone to find the right solution to complete a major milestone on the project.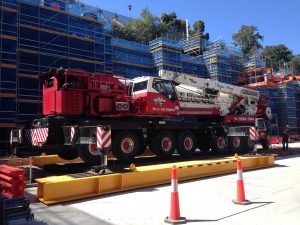 Barangaroo South –
Barangaroo South Project (project value $6 billion)
Melrose Cranes & Rigging is the contracted crane supplier for Barangaroo South, which is Sydney's largest and most iconic construction project.
Barangaroo South is a vital new development of Sydney's central business district and will provide extraordinary benefits for Sydney, NSW and Australia. It is a once in a 200 year opportunity to create a bold new place to live, work and visit. It provides room for the city to grow – creating new jobs, stimulating growth and boosting our economy. It also returns this previously private industrial space to the community, including a new naturalistic harbour park. Barangaroo South – the southern 7.5 hectares of the 22-hectare former container port on the western rim of the city – will become the greenest global residential, shopping and business centre in the world. Barangaroo South will have a mix of uses, with commercial and residential buildings as well as shopping, dining, hospitality and public places. It will be a dynamic and authentic part of Sydney.
K2RQ – Kingsgrove to Revesby Rail Track Quadruplication –
Leighton Contractors Rail Project (project value $790 million)
As part of the Kingsgrove to Revesby Quadruplication (K2RQ) Alliance, is delivering the quadruplication of rail lines between Kingsgrove and Revesby Stations in Sydney. Other partners in the K2RQ Alliance include AECOM, Sinclair Knight Merz, MVM Rail, Ansaldo STS and Transport for NSW as the owner participant. As the largest development in the NSW Government's Rail Clearways Program, the K2RQ Alliance project is designed to improve capacity and reliability on the CityRail network through the delivery of two additional rail tracks between Kingsgrove and Revesby. This will separate local and express services operating on the East Hills Line. As a highly complex project in a live rail environment, detailed planning and rigorous implementation is required to deliver the project safely and efficiently. Melrose Cranes & Rigging were the contracted crane supplier to this project and utilised our full fleet of cranes to assist project construction and completion, involving the removal and replacement of 10 x major rail bridges during possession weekends, new rail substations, portal installation and all general crane requirements.
Southern Sydney Freight Line (SFL) –
Leighton Contractors Rail Project (project value $200 million)
New rail freight line construction from Villawood to Glenfield with multiple bridge installations and a 1km raised pre-cast viaduct next to existing rail corridor. The entire Melrose Cranes & Rigging fleet was utilised on this project ranging from 8 tonne to 450 tonne cranes.
Woodlawn Wind Farm –
Woodlawn Wind Farm Project (project value $140 million)
The Woodlawn Wind Farm is near Tarago in New South Wales, adjacent to Infigen's Capital Wind Farm which became operational in late 2009.
The wind farm comprised of 23 x S88- 2.1MW wind turbines with a total output capacity of 48.3 MW. MCR was contracted to Suzlon, who were the turnkey contractor responsible for the engineering, procurement & construction (EPC) delivery of the entire project. The wind farm was completed in the second half of 2011.
Melrose Cranes & Rigging assisted the project with unloading and installing of all components for 23 x 88m high wind turbines.